Botanical name Doryphora sassafras

A common name Sassafras

Seedling
Young plant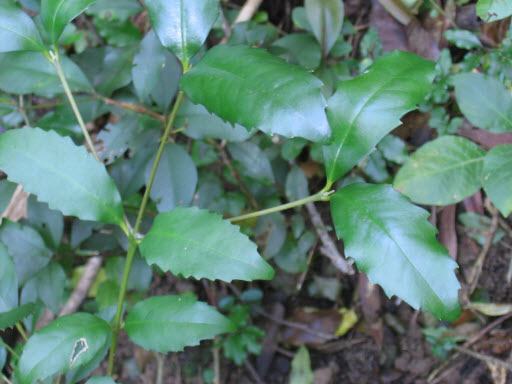 Doryphora sassafras, early on. They are one of those species who I know to live for quite some time.
Plenty of Small Leaf Privett here. Doryphora sassafras is one of those species that will continue growing when the light levels are too low for Small Leaved Privett to continue growing.
The terminal shoot is between pair of leaves nearest the top of the image in the middle.
This little plant is on a South facing hill side not far from the house.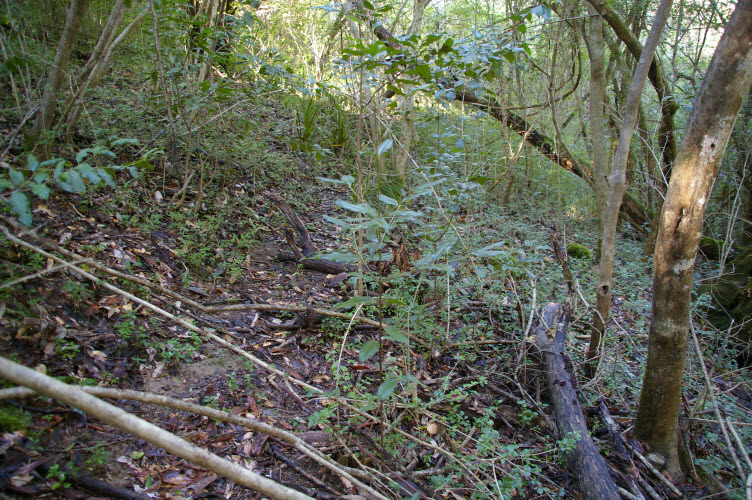 There are at least 4 thin Doryphora sassafras saplings here. Mouse over to find them.
These are some of quite a few Sassafras in the this location, not far from the bottom of a large gulley.
This gully holds a category one stream which seems to flow above ground most of the year for the past few years.
There are a couple of moderate sized Sassafras just up hill, this slope faces West.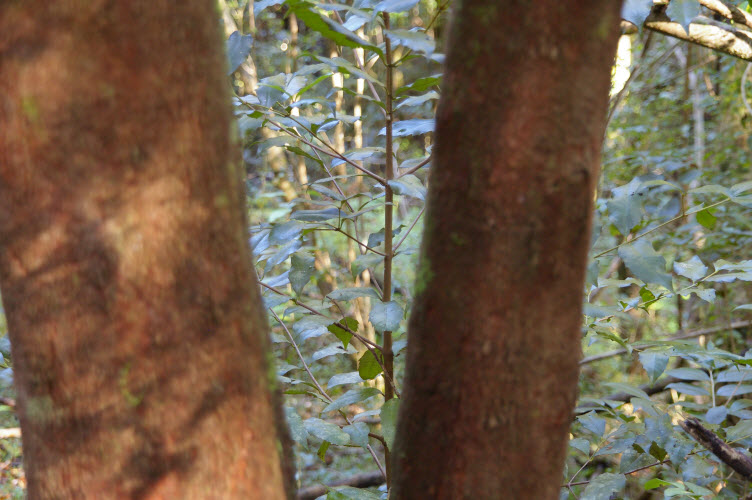 The photo at left was taken by turning right and shooting from the same position as the photo above.
This Sassafras is just down hill from a Syzygium smithii.
Juvenile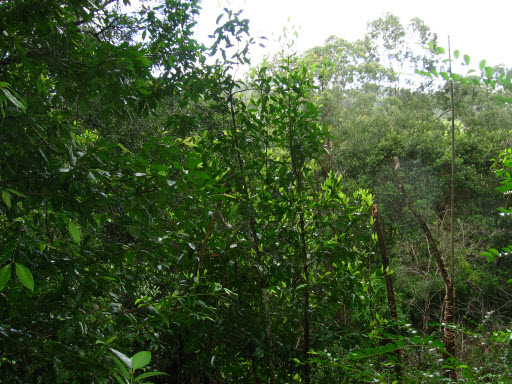 These 2 well established young trees, about 5 metres tall, are part of a colony that stretches along a south facing hill side some 100 metres or so, it used to extend down to Mooral Creek Rd but the survivors down there died in the drought during 2003. One of those 2 I suspect was a resprouting cut log, about a 60cm in diameter, rather than a seedling growing from underneath the log. The foliage was mature.
I wrote the para above about 3 years ago. About 2 months ago I found a very healthy seedling, about 30cm tall, under a very dense Small Leaf Privett canopy, down by Mooral Creek, on the other side of Mooral Creek Rd. This seedling would get no direct sunlight at all, proving to me again that they will indeed grow in the dense forest without sun until they become emergent at 35 or so metres tall given enough time.
Reasonably mature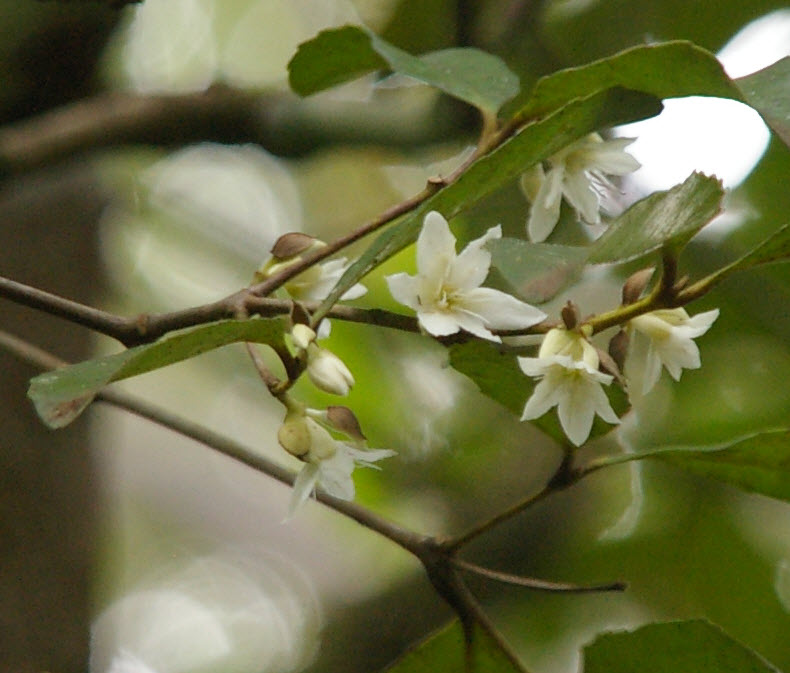 Some flowers from a small tree in the same colony, on the Eastern side of a spur running off the ridge the young trees above are growing on. This is cut out of a larger image, maybe I'm discovering I need a more powerful telephoto lense.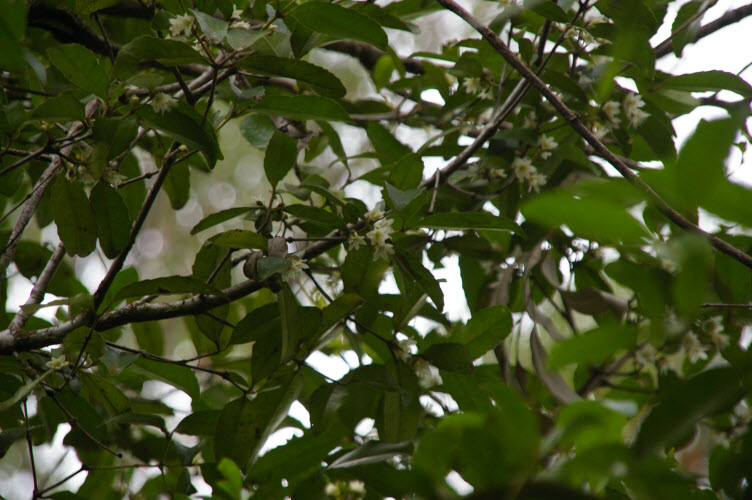 This Doryphora sassafras was quite heavily in flower.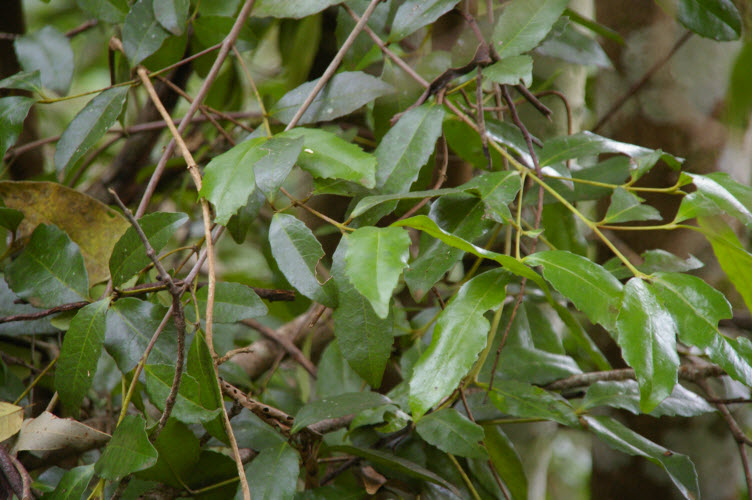 A variety of leaves, differing ages and conditions. Until the tree gets somewhat older you will find leaves quite close to ground level even under more closed canopies, though not flowers, they are always a bit higher up.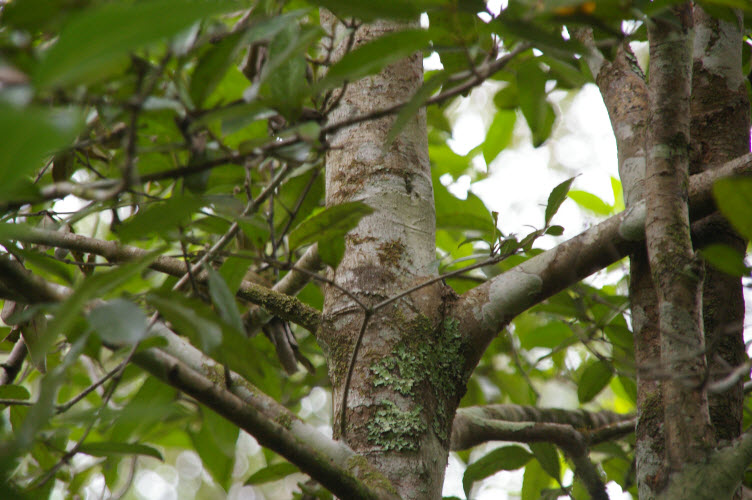 Doryphora sassafras seems to hold onto its' scars for a while, you can also see this in the flower photo, look for the mark where the leaf stalks fall off the branchlets.
You will also see occaisional faint raised rings or ripples, though often they don't encircle the trunk, perhaps semi circular ripples?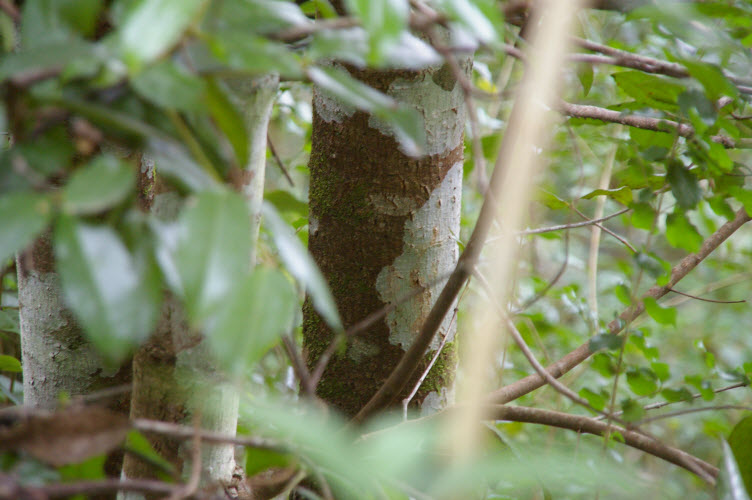 The same trunk lower down, the bark is starting to mature.
This Sassafras is by no means mature, at least insofar as the size of the trunk.
Because the tree coppices it can be a little hard to determine how old it actually is, that is the main trunk can die, from axes, bull dozing, chain sawing or fire and still pop up again.
Doryphora sassafras "trees" have been known to live for a couple of millenia in Tasmania. It would be interesting to know if that was the first trunk or just another coppice.
A least a couple of Syzygium species seem to do the same thing, e.g. Syzygium floribundum.
I will get some photos of more mature trunks when I get the camera further up the block again.